Online Family Resources
Each week we provide two resources for families to use.
In the Family Resource Pack we explore a story or theme using a story from the Bible. We will suggest activities to do, worship songs to use, explore different ways of telling the story and give you some prayer ideas. There is no set way to use this material, so use in whatever way is helpful to you and your family.
The QPLive Activity is designed to use with your family as part of QPLive on a Sunday. It will help you explore Sunday's teaching theme together.
We realise that not everyone will have access to a printer so please contact Mairi (mairi@qpbc.org) if this is the case. We will try to keep the craft activities simple using paper, paper plates, felt pens, glue sticks and some bits and pieces you hopefully have lying around the house. I suggest you don't rush to empty your recycling bin as there will be some junk modelling ideas.
We'd love to see how you are using the resources so please upload your photos onto Instagram and tag us in them (@queensparkbc).
Each week we will put an updated link for each resource.
Click here to find the Bumper Summer Family Resource Pack
Click here to find the QPLive Activity for Sunday 18 July 2021. 
Click here to find the QPLive Activity for Sunday 25 July 2021.
A life of faith & adventure
We believe in creating a place where children belong; where they are loved and appreciated, safe and comfortable; where they know they are important members of the church family and God's kingdom. We are passionate about equipping, encouraging and supporting children and families for a life of faith and adventure.
On Sunday morning our children have fun and flourish in the following groups:
Camphill Campus
Creche 0–2 ½ years
Beginners 2 ½ – 4 years
Building Blocks Preschool year – P1
Kingdom Kids P2–P6
Partick Campus
Parenting Lounge available for parents and children up to 3 years
Step Out 3

–

11 years
Playtime offers toys, activities, snacks and a chance to enjoy time with other parents/carers and their children aged 0 to 5 years in a relaxed, informal environment.
To ensure everyone has a safe and fun experience we have a limit of 25 children per session (first come, first served). Find out more by visiting our Facebook page @PlaytimeQPBC.
When do we run: Mondays 10–11:30am (term time only)
Venue: Partick campus, 19 Crow Road, G11 7RT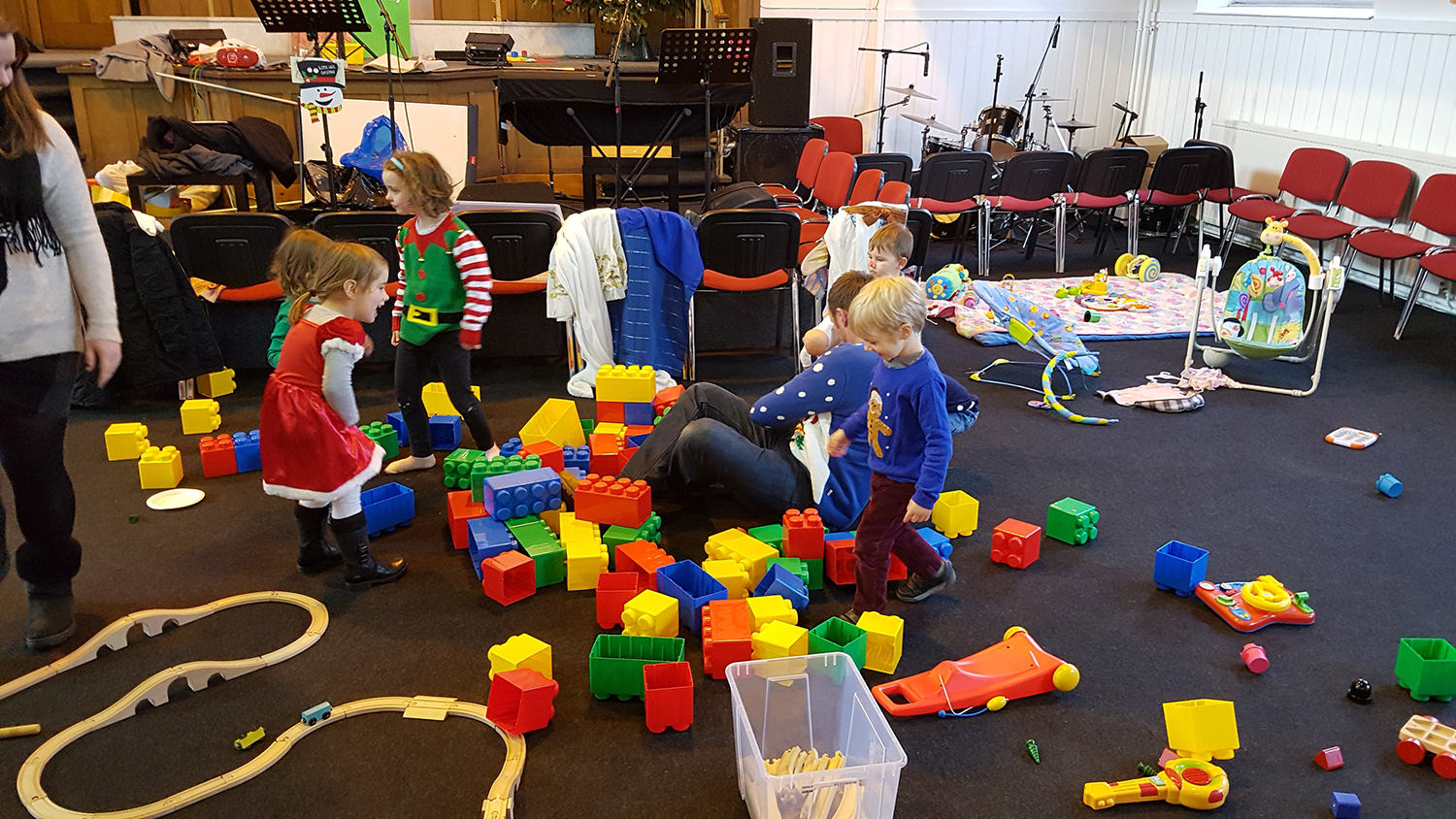 Playbreak is a toddler group with a difference – it aims to give parents/carers a much-needed break. Have a coffee and chat to other parents/carers in the tea/coffee lounge or enjoy a few minutes' peace in the quiet lounge while your children play in separate rooms. The children are cared for by a team of volunteers (all helpers are PVG registered) in the creche (under 2s) and the hall (2–5 years).  
To ensure everyone has a safe and fun experience we have a limit of 15 children in creche and 35 children in the hall per session (first come, first served). Find out more by visiting our Facebook page @PlaybreakQPBC. 
When do we run: Tuesdays 10–11:15am (term time only)

Venue: Camphill campus, 20 Balvicar Drive, G42 8QS (back lane entrance, press buzzer for entry).
Messy Church is a form of church for children and adults that involves creativity, celebration and hospitality.
It includes a long creative time to explore the biblical theme through a variety of activities; a short celebration time involving story, prayer, song and similar; and an afternoon snack together. All elements are for people of all ages; adults and children.
When do we run: Third Saturday of every month (except June) 2–4pm
Venue: alternate months at Partick campus and Camphill campus – check the events calendar for the next event. 
Glasgow born and bred, Mairi worked in tourism and as a buyer for a retail chain after graduating from the University of Glasgow. After a few years as a stay at home mum, she qualified in Children's care, learning and development, working in early years' settings, before joining the staff team at QPBC. Mairi loves both reading and telling stories.
Find the next
Children & Families events
Camphill campus
20 Balvicar Drive, Glasgow, G42 8QS
Partick campus
19 Crow Road, Glasgow, G11 7RT